The topic of today's post has been somewhat of a struggle for me over the past few years. I like to bake and I love to bake cookies. However, I have ALWAYS struggled with chocolate chip cookies. Even the most "fail-proof" recipes passed on to me never worked out. Let's not even talk about my Mother-in-Law's infamous chocolate chip cookies. I think about a year ago I told my husband I was never, EVER going to make another chocolate chip cookie EVER.
Well, I couldn't honestly give up on chocolate chip cookies forever…even if I have failed more times than I dare to think about. So, I have been still on the search for the perfect chocolate chip cookie recipe and I have had some almost successes over the last few months.
Which leads me to today's post…Today I am participating in my first ever blogging challenge/event: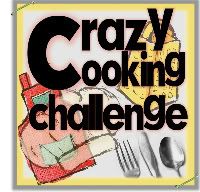 I found The Crazy Cooking Challenge last month when I saw all of their "Ultimate Macaroni and Cheese" posts and I was excited to join in on the fun. The minute I saw the topic for this month–The Ultimate Chocolate Chip Cookie Recipe, I knew I had to participate. I was determined to find "THE ONE" chocolate chip cookie recipe. The perfect one for me!!
Personally, I love my chocolate chip cookies to be soft and chewy, but still a little crispy…not cake-y, not dry, and not hard! I like them with a nice glass of milk, but I do not dunk them (just in case you were wondering).
All month I have been thinking about chocolate chip cookies. I made a couple of batches of cookies that turned out good, but they didn't quite do it for me.
Last Saturday morning we had on "regular" TV for the first time in months (normally we just watch Netflix) and my daughter (who turned 3 this week) was flipping through the channels trying to find cartoons when she stopped on America's Test Kitchen. I glanced over and told her to wait and watch for a minute. They were in the process of mixing together browned butter and sugar. It only took a few seconds before I guessed they were making chocolate chip cookies. I was pleasantly surprised when I was correct. IT WAS A SIGN!! A sign I had to make these cookies. I knew instantly that I had to try this recipe! I needed to try browning the butter. I had to try stirring the butter and sugar together then allow it to rest for 2-3 minutes before repeating two more times.
I searched blog land for what appeared to be this recipe. I came across a couple of bloggers who have posted the recipe: The Way The Cookie Crumbles and Apron Archives. Apparently the original source is Cook's Illustrated May/June 2009. Since the recipe is published and I didn't alter the recipe significantly when I made my cookies, I'm not going to copy the recipe here. You can also watch the episode of America's Test Kitchen that I saw on Saturday over at Serious Eats.
America's Test Kitchen definitely got it right with this recipe! It is amazing!!! I think I will be browning my butter and doing the special mix and rest cycle with my chocolate chip cookies for now on.
I only made a couple of adaptations to the recipe found on The Way The Cookie Crumbles:
I used half salted and half unsalted butter (I only had one stick of unsalted butter and I didn't feel like going to the grocery store). But I recommend sticking with all unsalted, just like they recommend. My cookies turned out a little too salty, but that didn't stop me from eating a couple and then a couple more and …. well, I'm not going to talk about it.
I made smaller cookies. I love my cookies on the small side. I made 36 with this recipe (not 16). They were the perfect size and the texture was fabulous…plus that is how I justified eating more than one. But if large cookies are your thing…that is awesome too!!
I only used 1 cup of semi-sweet chocolate chips and no nuts. I normally prefer milk chocolate chips, but the semi-sweet were perfect in these cookies.
After removing the cookies from the oven, I hit the pan on the top of the counter to flatten the cookies. It is a trick my Mother-in-Law taught me to help release the air inside the cookies. It's highly addictive…I now do it out of habit anytime I make chocolate chip cookies. Try it…it's fun. Probably more fun than scientifically necessary.
And the best part about these cookies…they still are nice and chewy and slightly crispy and absolutely delicious a couple of days later…maybe even longer, but I haven't been able to test that theory yet.
If you are up for trying a new recipe chocolate chip cookie recipe, I strongly encourage you to give these a shot. They are amazing! This definitely is the ULTIMATE chocolate chip cookie recipe for me!! You can find the recipe from one of these lovely blogs: The Way The Cookie Crumbles and Apron Archives. Be sure to check them out! They both have beautiful step-by-step photos.
And if you don't think these are for you…well, you are in luck. Because there are over a hundred other chocolate chip cookie recipes linked up below. You are bound to find your perfect chocolate chip cookie recipe in one of these posts.
How would you describe YOUR perfect chocolate chip cookie? And because I am curious…Do you dip your cookies in milk?
If you want to join in the fun (I know you want to), be sure to check out the link below for details on how to enter next month's challenge!! I'm already looking for my next ultimate recipe!!
AND…if you feel so inclined…I would love for you to vote for my post by clicking "like" on #55 below. If not, I totally understand…there are a lot of amazing posts!!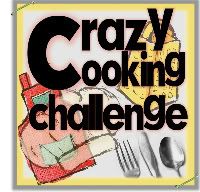 The Crazy Cooking Challenge Bloggers – Chocolate Chip Cookies: