Today I am participating in a fun NEW challenge! Sheryl from Lady Behind the Curtain is hosting The Improv Cooking Challenge and this is the very first month!! At first I was a little nervous that we would be given crazy ingredients that we would have to somehow find a way to use together (think Iron Chef or Chopped), but no we are assigned two delicious items that pair wonderfully with each other leading to endless possibilities of creations. Click on the image below for more details (and to join in on the fun).
This month we were assigned Caramel and Apples! Growing up we had a small apple orchard. Every year we would make homemade cider, applesauce, dehydrated apples, and frozen pie filling. We would also eat lots and lots of fresh apples. Personally, I preferred the really really sour apples with a sprinkling of salt or a nice crisp tart apple with a little (or lot) of caramel sauce. For this challenge I decided to try Caramel Apple Pie Popcorn.
The tart dehydrated apples are perfectly paired with the sweet and chewy caramel popcorn. Add in a few toasted almonds and a sprinkling of cinnamon. And we are left with a fabulous fall dessert. And if you don't feel like eating the entire batch yourself, I suggest bagging it up and delivering it to friends and family (not only is it great for fall, but it would also be a great holiday treat).
The original caramel corn recipe is a family favorite. My Mom especially loved using this recipe because it only calls for ingredients that we always had at home.
Caramel Apple Pie Popcorn
Sugar & Spice & All Things Iced
3/4 cup brown sugar
3/4 cup white sugar
1/2 cup Karo syrup
1/4 cup water
1 teaspoon cream of tarter
1/2 cup butter or margarine (I recommend using salted butter)
1 teaspoon baking soda
3/4 cup unpopped popcorn, popped (you might want to reserve a couple of cups of the popcorn in case it is not needed – plus plain popcorn is a great healthy snack)
1 – 1 1/2 cups dried apple slices cut into small pieces*
1/2 – 1 cup toasted nuts (I used almond slivers)**
pretzels (I didn't use pretzels, but they would be a great addition)
ground cinnamon (to taste)
fine ground sea salt (or table salt, to taste)
Cook brown sugar, white sugar, Karo syrup, water, cream of tarter and margarine to softball stage. While caramel is cooking, pop popcorn and toast nuts (if necessary). Combine popcorn, apple slices, nuts, and any other ingredients in a very large bowl and set aside until caramel is ready.
Add baking soda and stir vigorously (be careful as the mixture will bubble up). Quickly (and carefully–it will be HOT) pour the caramel over popcorn mixture while stirring. You might need to start with only half of the popcorn and add more once it is coated. I had to use two large bowls since I didn't have a large enough bowl. Spread mixture onto a foil (or parchment) lined cookie sheet (jelly roll pan). Sprinkle with cinnamon and salt (if desired).
Eat and enjoy! If you like your caramel corn crunchy, you can bake it in a 250°F oven stirring every 10 minutes for about 30 minutes. To check if it is done, remove a piece and let it cool (it will be harder after it cools) and see if it is your desired texture.
*I used homemade dried apple slices using tart cooking apples in a food dehydrator. You could also dry the apples in your oven using these instructions from Serious Eats. You can also buy dried apples from the store. I've noticed them in the produce section.
**To toast nuts, spread them on a baking sheet and toast them at 200°F for 5-10 minutes. Stirring a couple of times.
Be sure to check out all of the other fabulous caramel and apple treats linked below!! I am also doing a double post today, so if you want, I would love for you to take a look at my Double Chocolate Mint Chip Brownie Cookies.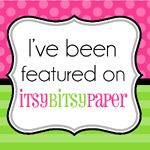 Linked to:
Balancing Beauty & Bedlam's
Tasty Tuesday
Reason's to Skip the Housework's
Tuesday Time Out